1. Declutter and deep clean
A lack of cleanliness, as well as clutter, can be a dramatic turn-off to potential buyers. When staging your Lake Highlands luxury home, you want to show buyers that your space is well-maintained and stylish. Additionally, clutter can make rooms appear small—regardless of their actual size. Thus, it's vital to take some time to declutter and deep clean each room. For any extra belongings, rent a storage unit where you can store things until you move into a new home. A storage unit will make your move easier, and allow you to show off the valuable storage spaces in your home.
After the clutter is removed, your space will need a deep cleaning. A dirty home can give the impression that the previous tenants did not take care of it properly, which can lead them to pursue other options. However, you can easily dispel these worries by conducting a thorough deep clean. And because the deep cleaning process is inherently dirty and time-consuming, it's a great idea to hire a professional. Many cleaning services offer a tailored "move-out" cleaning package that's more in-depth than an average cleaning. This investment will be repaid with saved time and higher offers. We work with many local vendors and would be happy to help coordinate this step for you.
2. Less is more
Your inclination when staging may be to go all out—however, that's not always a wise investment. Certain rooms tend to draw to potential buyers more than others, and those are the rooms you want to focus on. You should focus your energy when staging on common living spaces that are used frequently.
Focus most of your energy on the living room, dining room, kitchen, primary bedroom, and bathrooms. Less effort is needed in extra bedrooms, laundry rooms, and garages. For the less important rooms, just ensure they are clean and clear of clutter. Buyers tend to pay more attention to the rooms they will be using the most.
3. Depersonalize
While personalizing your space is one of the best parts of homeownership, when it comes time to stage your Lake Highlands home for sale, you want potential buyers to be able to imagine themselves living in the space. An abundance of your own personal belongings can inhibit your imagination from running wild. You want your home to be a blank canvas that potential buyers can paint over in their minds to create the perfect space for themselves—which hopefully leads to them purchasing your home. Get rid of anything that suggests that this home is already taken.
When depersonalizing, you want to put away all family photos, magnets on the fridge, clothes, and anything that espouses personality. Put away all excess appliances in the kitchen as well as any personal belongings in the bathrooms. Although it may be an adjustment, take things like your toothbrushes, pills, supplements, and anything that is structured to you away and out of sight.
4. Make repairs


When a buyer walks into a home and sees cracks, dings, and scratches—or small holes in the walls, floors, molding, and fixtures, it leads them to believe the owner has neglected their space. The implication for buyers is that they are going to be forced to put more money into the home after the sale is complete.
If the damage in your home is relatively minor (and you have the time to do it correctly) you can handle many fixes yourself. There are plenty of kits and YouTube videos that make fixing things a breeze. If you don't have the time or the repairs are more severe, it's worth the extra money to hire a professional to come in and make the fixes your home needs. This step will pay you money in the long run, by making your home more desirable and prepared for close inspection. This is a step in the process that we love helping our clients with. We have many local resources in the area with negotiated pricing for LOCAL clients.
5. Use neutral tones
Any walls that have suffered normal wear and tear, or are painted a bright, bold color, should be repainted. When buyers view your home, you want them to envision it however they want, and this is much easier to do when the walls are clean and neutral. If you look at a beige, white, or opaque wall, it's easy to reimagine it with your own style. In terms of current home design trends, bright, lighter-colored rooms are all the rage, and someone is more likely to buy a home that already fits their interests. Let our Lake Highlands interior designers on staff help you in selecting the right neutrals to go with your home.
6. Make your home as fresh as possible
Make sure when people walk into your Lake Highlands home for sale that they are greeted with a pleasant environment. Take the time to deep clean your furniture and carpets in order to keep your space smelling fresh. Light candles to add ambiance and a pleasant (mild) aroma. Just be sure to keep subtlety in mind and don't overpower your potential buyer's senses.
Houseplants and flowers strategically placed within your home add a bit of life to your space. Don't overdo it and turn your living room into a greenhouse, but be sure to make them noticeable. If you don't have a green thumb, have no fear. LOCAL has a plant stylist on staff that will help you to select the right house plants for photographing and showing your home.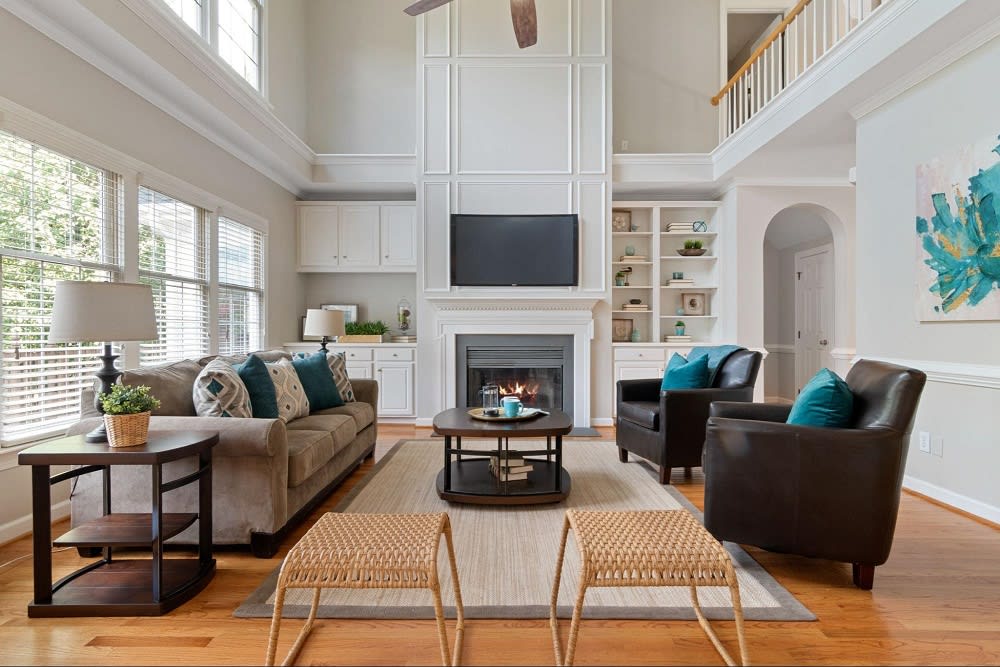 7. Let light in
Brightly lit spaces are incredibly appealing to buyers. Most buyers want to live in homes with beautiful natural light flowing throughout. This means you want to eliminate any dark areas of your home that make it feel closed off. Remember, dark makes rooms seem smaller, and light makes rooms seem bigger. Make sure curtains and shades are drawn back on the day of viewings. If your Lake Highlands home has rooms that don't get a lot of natural light, bring in lamps or other forms of lighting to brighten them up. Clean your windows to let in as much light as possible, and if you have furniture or decor blocking your windows, rearrange and clear away anything that cuts off the natural lighting. If the weather is terrible, you won't be able to do anything about the natural light—but you can still make sure the bulbs in every room are new, energy-efficient LEDs, so you don't have to worry about them burning out.
Ready to list your Lakewood or Lake Highlands home for sale?
If you're ready to list Lake Highlands, Preston Hollow, or Lakewood luxury real estate for sale, contact the agents at LOCAL Resident Realty to begin the process.